I'd be getting an F for the lateness of this assignment if blogging about a sewing job was actually a requirement. Instead I'm giving myself an A+ for execution, and a "highly commended" for my positive attitude in the face of an unimpressible tweenager....
Late last year, as the end of primary school was coming up, A put in her request for her "graduation outfit". She wanted to wear a black button up shirt, under her favourite pink jumper with a pair of yellow cargo pants.
Since she had zero chance of finding yellow cargo pants anywhere in a shop, she realised it would be worth her while asking nicely....
I quite liked the idea of making her cargo pants, even if I didn't entirely understand the outfit's appeal. In my head, the "graduation" was an evening affair and this was an unusual outfit, but I wasn't about to become the fashion police.
There's a lot of tasteful mustard shades of heavy cotton drills or denims out there, but she wanted a proper buttercup yellow. I found this lovely, soft, cotton drill online at SuperCheap fabrics and it fit the colour brief perfectly. I also clicked on their black, lightweight cotton for the shirt. The quality of that fabric is not so nice. If it ever gets worn, and then washed, it might soften up. But I'm getting ahead of myself. Let's stay in the happy zone where I'm enjoying making exactly what's been requested of me.
The shirt is the Liesl + Co Recital shirt, with the collar from the Classic Shirt. These two patterns are designed to go together in a mix'n'match sense. I made a size 2 as per her chest measurement but it's probably a bit tight across the shoulders and upper arms.
I didn't have a women's cargo pants pattern and she was very keen on the Waffle Patterns Azuki workpants - in reality I think she just falls for everything Yuki designs when it's included in one of the awesome little sketches she does.
The pattern is fabulous, and the only quibble I have is that I bought and paid for the printed pattern. What that actually entailed was receiving a copyshop print out of the pattern, but still only getting all the instructions digitally. I'm a fan of a nicely printed instruction booklet, or a pattern in a packet. This was a bit disappointing and should perhaps be advertised as a "printout of digital pattern".
I made the size 40 pants and followed the pattern suggestion to baste the pants pieces together to try them on before taking them apart again and adding all the pockets etc. Kind of like making a muslin with the final fabric. Fine, so long as you're likely to err on the side of too big.
She wanted every pocket and extra option on these, and I think the final count was something like twelve pockets! I added some rivets as I went, and I suspect I even snuck a label under a pocket edge somewhere although it's not visible in any of these photos.
The only adjustment to the pattern was to take a bit of height off the back yoke, and bring it in closer to the lower back, and then shorten the waistband to match.
The little pouch bag, which contributes 3 or 4 pockets to the total pocket count is removable and attaches with press studs.
She was absolutely in love with these pants when they were finished. She wore them dog walking and at every opportunity. It took all her willpower to not wear them immediately before graduation day so that they would be washed and dry and ready....
The day came and she even managed to talk me into driving her to school so she wouldn't need to put her bike helmet over her hair-do. I insisted on a few photos before we left, but something caused the happy yellow pants mood to evaporate. Since the blog is about my sewing, and to be fair to someone who was having a bad morning and who is actually quite beautiful, I've cropped her face out of all these pictures.
For a much younger, and very cute, refresher on what the "death stare" looks like: try here.
We got to school in the car, only to see everyone else arriving still in regular school uniform. Nobody's mood was improved by this and my only suggestions were either; I would provide a note explaining she'd misread the process and assumed it was a casual clothes day, and I'd deferred to her as she's usually more on top of this kind of shit than I am, or, I'd drive her home, get myself to work on time and she could get changed and ride back to school and be late. She took the latter.
The pants were worn again, a bit later, on the actual end of term day which was a free dress Friday.
Meanwhile, I'd been informed that "graduation" was actually an evening affair (ha! I knew it!) and could she please have a dress just like the one that Adora wears to the prom in the update version of the She-Ra cartoon.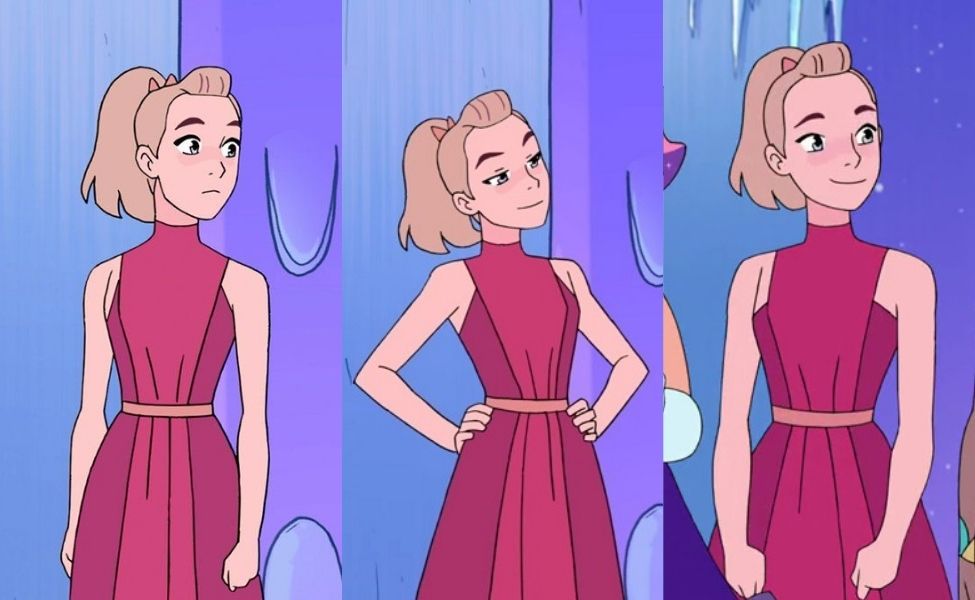 Are we all sighing deeply and counting to ten in unison?
But you know I went back for round 2 don't you?